At the bottom of the post is a graphic I created, with the intention of showing what lies beneath the general understanding of the majority of Americans. This gives a dramatic visual representation of the actual human cost of the Iraq War.
The numbers flashing on the news screen are almost always reflective only of U.S. military deaths. There are reports daily of Iraqi civilians being killed, 10 here, 15 there, 5 someplace else, but those seem to be somehow edited out of the public consciousness.
The Virginia Tech shootings were front page news for weeks across the nation, and still from time to time there are stories about the families of the victims. There is the equivalent of a Virginia Tech in Iraq every day.
This is a photograph of a pair of baby shoes that I presented to Vicki Middleton in January 2007. She is Duncan Hunter's chief of staff, and I gave them to her when I participated in a lobby effort to the San Diego congressional delegation. I am Duncan Hunter's constituent, so I made the presentation.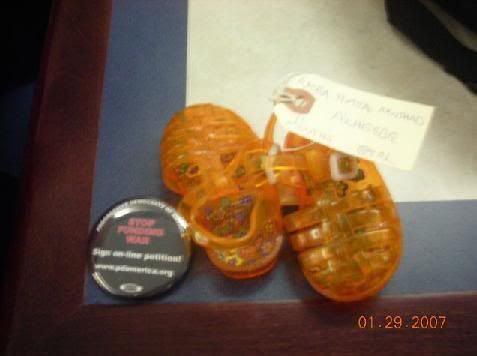 Attached to the shoes is the name of an Iraqi child killed by an American bomb. Her name was Akea Hmza Mushad Alhgebr, and she was eleven months old.
The current graphic shows the human cost as of March 24, 2008. Click on a particular section of the map for links to citations for those statistics.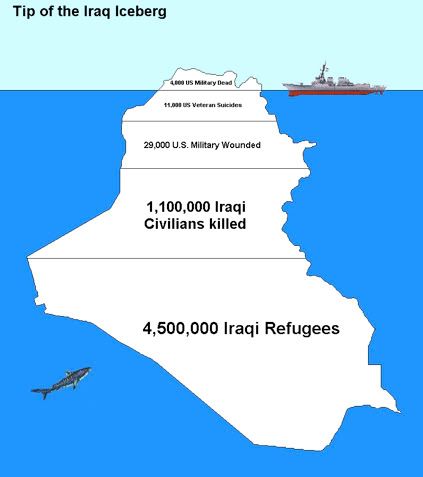 Click Here
to see a larger version of the map.
Click Here
for a larger version of the map - with citations.
Peace