Thanks to Doug, for giving me the idea for this piece
The tragic injury of the heroic Barbaro, winner of the 2006 Kentucky Derby, moved many people, and the circumstances of his death after his latest surgery occupied much of the media's time. I love animals, and the death of an animal like Barbaro, who was a champion, might have attracted my interest, and might even have taken up some part of my thoughts, if I hadn't realized that the media coverage of his death was at least partly an attempt to distract me from more important events.
The media started
talking about Barbaro
on about January 16th,coincidentally as the planning for the large national peace protest in Washington DC on January 27th was nearing its final stages.
Larger View
Left
Larger View
Right
The furor over Barbaro continued, through the attendance of over 500,000 people at the march on that Saturday, until he was put down on January 29th, the same day that many of the people involved in the protest march in Washington were lobbying congress to get them to vote to end the funding for the war. Well over 90% of all of the members of Congress, both House and Senate, or their staff, received a delegation from peace activists. There was a somewhat dramatic arrest made, of some of those activists, in the Rayburn House office building due to an overreaction by the Capitol Police.
Somehow, those events never made it into the mainstream press, but a horse being put down took up
hours of the news
during that time.
Anna Nicole Smith, similarly, has been portrayed in the media as a tragic figure. Her son's death in her hospital room a few months ago, and her "heroic" fight all the way to the Supreme Court for her inheritance rights has been played repeatedly over the airwaves. Her recent death in a hotel room of unknown causes caused MSNBC to ask the question that is apparently on all of our minds:
Did Anna Nicole choke on her own vomit?
There is no question that Smith led a tragic life. She was a sad and compulsive woman, who seemed only to feel alive when the world was watching. Pandering to her compulsion, even after her death, is simply bad taste.
The events in the world at large continue to play out. A large-scale confrontation between the United States and Iran looms in our immediate future, unless someone changes course rapidly. This could drag us into a long and difficult war with a formidable enemy, at the very time when our military is exhausted and demoralized.
Headlines of Anna Nicole compete with the latest
claims of "evidence"
of intelligence showing that Iran provided weapons for attacks on U.S. troops.
O.J.'s latest public villainy
distracts us from less publicized reports of the attempt of some Senate Democrats to fix that part of the Patriot Act that has allowed
Gonzalez's latest attempt
to limit prosecutions on political allies of the president.
What has happened to the media in this country? Why do important stories go unreported while frivolous tabloid crap gets shoved down our throats? Why do stories that are so big that they have to be reported get drowned out by provocative scandal? The simple answer is that the news is "ratings driven" and that people watch what they want to see, and the networks are just providing that. Bull. The networks put stuff on that they know will be distracting, and they do it on behalf of corporate interests.
A
recent serious article
rated the news content of the Jon Stewart Show as being "as substantive" as network news. This indicates to me not so much that the Jon Stewart show should be considered as an important source of news, but more that the content of serious network news programs has been dumbed down so much that the news content is no better than an admittedly good comedy show.
Similarly, the Republicans are refusing even to debate the war or the escalation on its merits. On C-Span over the last few days, during the House debates on the non-binding resolution, the Republicans have hammered on talking points over and over trying to frame the debate on the "Global War on Terror". They have characterized retreat from Iraq as defeat by the terrorists, as if the war in Iraq, and victory there, has anything to do with defeating Terrorism.
It seemed odd, that they are so much on the same page, until my friend Barbara pointed out on a local talk radio program this morning that they are literally reading from the same page. A
memo from John Shadegg(R-AZ) and Pete Hoekstra(R-MI)
to the Republican caucus was leaked and is posted on Steny Hoyer's Majority Leader web page, showing the talking points they were spoon fed.
If the previous link breaks at some point, I have uploaded another copy of it here.
This also is a program of distraction. There are three levels of deception here.
First, within the framework of the "Global War on Terror" argument, the Republicans wave the flag, and talk about defeating Islamic Extremists. They state that radical Islamists pose a threat to Americans (true). They then state that the extreme views of terrorists help fuel the war in Iraq (also true). Their final premise is that the threat from terrorists is global in nature (true, and well supported by statistics in their memo). The Republicans then leap to two conclusions. Withdrawal from Iraq would cause an escalation of the violence, and Americans would be endangered at home. The argument is logically flawed. For those familiar with logic, it is a clear example of a fallacious argument. The facts presented in the premises are true, but they don't prove the conclusion.
Second, the framework of the argument itself is not valid. The Iraq war has never been about fighting terror, this is about oil. Iraq itself had nothing to do with terrorism until we invaded the country. The problem with global terrorism, exacerbated by our invasion in Iraq, is independent of any "success" or "failure" in that country.
Third, the debate isn't about withdrawing from Iraq at all, this is supposed to be a debate about whether or not to support the escalation. They are refusing to address the issue of escalating the war, or the mistakes made in Iraq, at all. They are, as Shadegg & Hoekstra state in the memo, afraid to debate the Democrats on the substance of the issue at all, because they know they will lose. It says in the memo, specifically:
The debate should not be about the surge or its details. This debate should not even be about the Iraq war to date, mistakes that have been made, or whether we can, or cannot, win militarily. If we let Democrats force us into a debate on the surge or the current situation in Iraq, we lose.
When we do leave, whenever that happens, two things will happen immediately. The insurgents will no longer be attacking Americans, and with us gone, they will be less likely to consider the Iraqi Military and Police forces as collaborators. There is sectarian violence, and there are terrorist attacks, but these are harder to stop because of cover in the form of attacks by insurgents on American forces and Iraqi security forces.
Nobody knows exactly what will happen when we leave. It is certainly a real, and even likely possibility that the violence in Iraq would dramatically increase immediately following our withdrawal. Would that be sustained? That is hard to say. It certainly is true however, that withdrawal of American troops would remove some of the motivation for violence. As I have said before, leaving will be difficult whether we leave now, or later. It is not a question of whether we will leave, but when. Our presence in Iraq is untenable, and cannot last.
The administration quietly moves corporate interests, American soldiers, and money around like pieces on a game board, while dangling salacious video of Anna Nicole to keep the public sedated. While hundreds of thousands of people march on the nations capitol, the numbers are under-reported, and the death of a horse is trumpeted to the people. For those of us that are paying attention, Republicans in Congress indulge in scripted misdirection on C-Span in an attempt to distract us from what is really going on.
This misdirection in the media is frightening. As Edward R. Murrow said of television in his
speech at the RTNDA convention
in Chicago, October 15, 1958:
"This instrument can teach, it can illuminate; yes, and it can even inspire. But it can do so only to the extent that humans are determined to use it to those ends. Otherwise it is merely wires and lights in a box."
Control of the media is the first step in controlling people.
Mussolini knew that.
"Propaganda is neutrally defined as a systematic form of purposeful persuasion that attempts to influence the emotions, attitudes, opinions, and actions of specified target audiences for ideological, political or commercial purposes through the controlled transmission of one-sided messages (which may or may not be factual) via mass and direct media channels. A propaganda organization employs propagandists who engage in propagandism—the applied creation and distribution of such forms of persuasion."
—R.A. Nelson, A Chronology and Glossary of Propaganda in the United States, 1996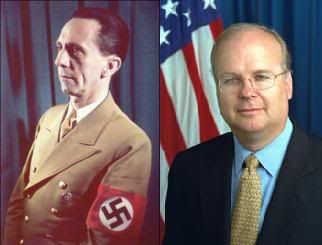 Germany had Joseph Goebbels. America has Karl Rove.
Our story is not being told. The story of the Iraq war is not being told. Who will tell it? Bill Moyers said it best, in
his remarks at the National Conference for Media Reform
, in Memphis on January 12th of this year:
"This is the moment freedom begins. The moment you realize someone else has been writing your story, and it's time you took the pen from his hand and started writing it yourself."
It is not too late to take back what is ours, before we slip into despotism. It is not too late to take back our freedom, to take back the soul of America. It is not up to politicians to decide our fates, but rather it is we ourselves.
Pick up a protest sign. Pick up a bullhorn. Pick up a pen. We have to win.
Peace